LINCOLN SQUARE — A new ice cream shop in Lincoln Square opens Friday, and its owners are hoping their frozen treats will put a smile on neighbors' faces during a tough time.
The grand opening of Lincoln Ice Cream Company, 4919 N. Lincoln Ave., kicks off at 12:30 p.m. Friday and features ice cream along with Cuban pastries and other snacks like nachos, elote, strawberries at cream and toasted granola.
Owners Edmundo Mozas and his wife Linda have been organizing events for seven years. The two met in 2013 when Mozas was the owner of Due Amici Pizzeria at 4919 N. Lincoln Ave.
The year after they met, Mozas closed the business to focus on the restaurant business with his wife. He also landed a day job as a tractor-trailer driver.
About a year ago, the couple were on a road trip when they started talking about opening a new business.
Mozas' Florida friend developed the property at 4919 N. Lincoln Ave. in 2007 and still owned the first floor display cases. During a conversation with the couple a year ago, he offered to hire him to try a new business.
Now the couple are ready to hit the ground running just in time for Labor Day weekend.
Mozas admitted it's a bit scary to open a new business during a pandemic, he was encouraged by the support he received from neighbors before he even opened the doors.
"We have already met so many neighbors and all we have done is post a few messages on Facebook. But the community really accepted us like crazy through word of mouth," Mozas said.
Lincoln Ice Cream Company will also serve Cuban pastries. Mozas said he plans to eventually add cubano-style breakfast sandwiches as well.
"You put bread on the plancha and you have it toasted nicely with lots of butter," he said. "I try to bring a bit of Miami to the neighborhood."
While the couple have been building the space over the past year, Mozas says he's also been impressed with how many people he sees walking their dogs or hanging out with their kids in the neighborhood.
He said he sometimes saw more people than cars pass by his windows, and foot traffic was another reason he was optimistic about Lincoln Ice Cream Company's future.
"And that's ice cream, bro, we're selling something that makes you feel good. When someone hands you a banana split, doesn't that make you smile? I want to bring smiles and the smell brownies at the block every day," Mozas said.
The full menu: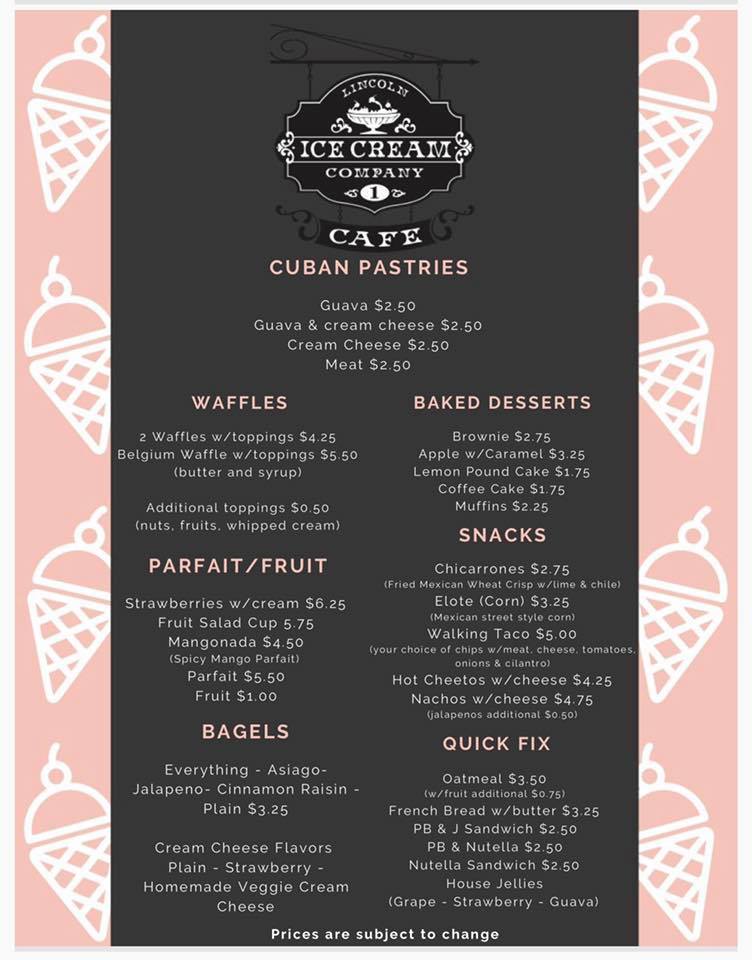 Subscribe to Block Club Chicago. Every penny we earn funds neighborhoods across Chicago.
Already subscribed? Click here to support Block Club with a tax-deductible donation.